Why don't more producers form bands? I mean, really -- can you imagine Phil Spektor prancing around stage with a keytar? No, you're right, I can't either. It's scary to even try. Nevermind.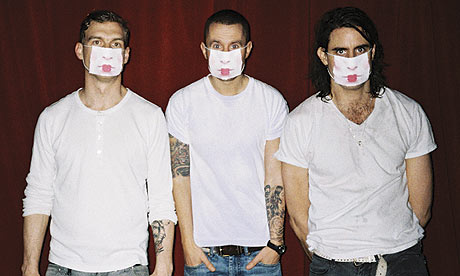 The old guard may have kept the worlds of music production and performance strictly divided, but obviously that dichotomy has been in a slow breakdown ever since the days of disco. (Nowadays, it's hard to tell them apart at all. Take Girl Talk -- compositional mastermind? Sweaty, overzealous Z-100 fan? Who knows.)
Miike Snow
(no, that's not a typo) is a Swedish-American hybrid of a band that represents the best of both worlds; it's fronted by American producer/keyboardist/singer/songwriter Andrew Wyatt, and backed up by Christian Karlsson and Pontus Winnberg, who together make up the Swedish production team Bloodshy and Avant. It's sort of a weird cross-pollination -- he's played with a veteran of Jeff Buckley's band and the male half of The Bird and the Bee; they co-wrote and produced Britney Spears' "Toxic" -- but my, do they make beautiful music together.
Miike Snow has been compared to Animal Collective, and the comparison certainly holds (listen to the chorus of "Burial" and try not to think of "Also Frightened"). At times, though, they sound just as much like an early contemporary of the Police -- especially on the track "Animal," whose weirdly wailed choruses, swelling verses, and syncopated strumming have Sting written all over them. At their core, though, they're industry-leading melody-makers, and that hook-savvy sensibility is what comes across strongest in their music.
Wyattm Karlsson, and Winnberg are playing Lollapalooza
this Saturday
, but I'm boycotting that day because I've got a weird thing against Tool -- guess I'll have to wait to see Miike Snow until they hit Mercury Lounge again in
mid-September
.